In previous StraightTalk posts, we've discussed how business architecture can be used directly – where business architects leverage business architecture and other techniques to help organizations and initiatives that are doing good to be more successful, such as non-profits, social enterprises and social initiatives. (See Post No. 18 Architect the World, Part 2 and also learn more about Architecting For Good (A4G)). This installment of StraightTalk will explore how business architecture can be used a bit more indirectly, as a framework to help us achieve goals for sustainability and doing good for people and the planet.
We're going to leverage the United Nations Sustainable Development Goals (SDGs) to serve as a focal point for this post and help us think globally. So, considering that perspective, here are a few ideas on how business architecture (and business architects) can help us all to achieve our all-important SDGs.  
What are SDGs again?
There are 17 Sustainable Development Goals (SDGs) that all countries – both developed and emerging nations – share globally that help us to move beyond traditional indicators such as GDP growth and per capita income to a richer set of objectives such as well-being, social fairness and environmental sustainability. Our SDGs are shown below.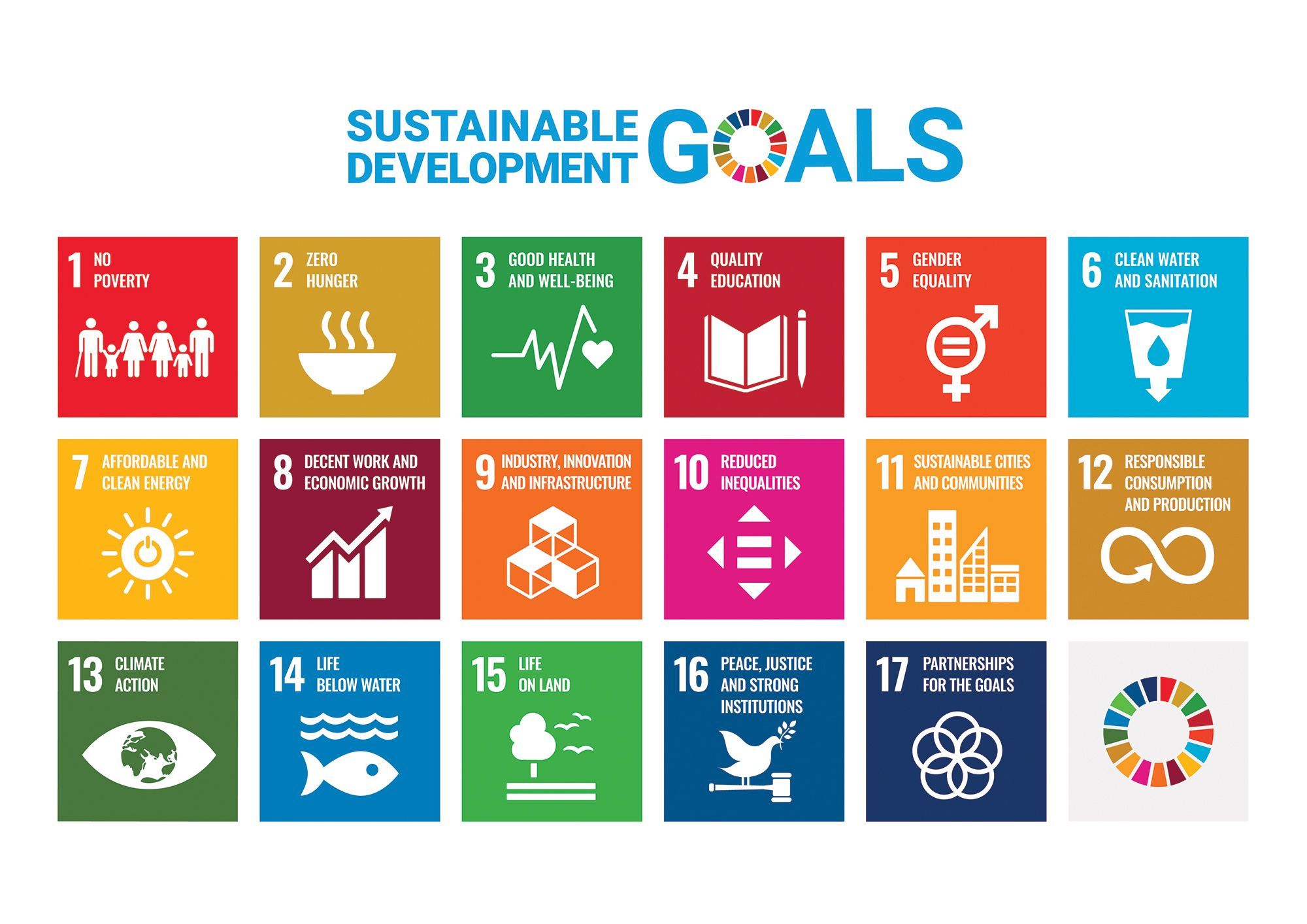 In essence, the SDGs are an urgent call-for-action by all countries, in global partnership, to ensure peace and prosperity for people and the planet. They recognize that ending poverty and other deprivations must go hand-in-hand with strategies that improve health and education, reduce inequality, and spur economic growth — all while tackling climate change and working to preserve our oceans and forests.
Where did the SDGs come from?
The SDGs were agreed to by 193 countries at the United Nations General Assembly in September 2015. They set 169 targets and further indicators that every UN member state should use in framing their agendas and political policies until 2030.
Why are these SDGs so important?
The SDGs are important for every reason, from humanitarian considerations to societal and business benefits.
The SDGs are important because…
Every individual has basic rights. Every individual matters.
The stability and success of a nation depends not just on economic growth, but social trust, fairness, equality and sustainability.
Stable and successful nations strengthen the global market.
Aren't the SDGs just the responsibility of governments and non-profit organizations?
Achieving the SDGs is not just applicable to or the responsibility of governments and non-profit organizations – they apply to every organization, including for-profit companies. We all need to work together if we're going to achieve the SDGs and business is a powerful mechanism for change. 
"For a real chance at meeting Sustainable Development Goals by 2030, the presently separated for-profit and non-profit mindsets must become one for-purpose mindset giving rise to a new breed of purpose-based enterprises." — Bhanu Patta
How can business architecture help an organization to achieve the SDGs?
One of the best ways an organization can contribute to the SDGs is to make the SDGs visible and tie actions to them.
The Why – Beyond creating a better world for us all, there are some seriously important WIIFM selling points to an organization. This might include measurable results such as customer and employee attractiveness and retention, good public reputation and trust, cost reductions, supply chain reliability, and many others. Of course, organizations can share their SDG-related commitments and achievements in their annual report, corporate social responsibility report or through other communication vehicles such as their website.
The How – First, capture the relevant SDGs in your business architecture knowledgebase. The key to making this work is relevance. For example, if your organization provides renewable energy, you might track your contribution to SDG #7 (Ensure access to affordable, reliable, sustainable and modern energy for all) such as how you've increased the mix of renewable energy in the global energy mix. If your organization produces material goods, you might track your contribution to SDG #12 (Ensure sustainable consumption and production patterns) to track the efficient usage of natural resources, reductions in waste, etc.
Next (but optional), you may also want to identify or create internal objectives and metrics specific to your organization that will help you to achieve your desired level of contribution to the SDG(s) and then tie them back to the appropriate SDG(s).
Now tie each objective (and metric) to the value streams and capabilities which enable them. Identify gaps that need to be addressed in order to achieve your SDG-related objectives and frame them within the context of the relevant value stream stages and capabilities being enhanced (e.g., people, process or technology changes). Plan initiatives to address these gaps and tie them back to the related value streams and capabilities.  Repeat. (P.S. See here for more on how to translate strategies and objectives into initiatives with business architecture in Posts No. 3, No. 50 and No. 9.)
You can even use policy mapping to enforce adherence to SDGs and your related objectives. For example, you could create a policy mandating that product packaging must utilize reusable or recyclable packaging and tie it to the capability for Product Packaging to make it visible and trackable for the applicable business units (which would also be tied to the Product Packaging capability).
How can business architecture facilitate collaboration across organizations to achieve the SDGs?
The Why – Simply stated, this is about organizations working together globally to accelerate and scale our ability to meet the SDGs. We can leverage the full power of global collaboration for matching needs to solutions and sharing best practices, which connects everyone: communities, governments, NGOs, businesses, startup ecosystems and even individual contributors.
Also, remember that we're not just talking about do-goodery here. Organizations can seriously benefit from taking this approach because it creates new product and market opportunities. We're talking about taking a market-based approach to solving problems which not only activates businesses in developed nations but stimulates economic growth in emerging nations through entrepreneurship and opportunities – which further contributes to SDG achievement.  This approach also provides opportunities for greater meaning through human connection and contribution, helping to address spiritual poverty.
The How – Here are a couple of ideas to get you started.
Business architecture helps to match SDGs and needs to the global collective of people and solutions that meet those needs. 
Business architecture (especially capabilities and value streams) is the great connector – of anything. (More on business architecture as a connector here in Post No. 53.) In particular, the Business Architecture Guild® Government Reference Model becomes absolutely critical here because it provides a common framework to unite people and technologies around common capabilities that a society needs – and that need to be improved per the SDGs.
Here's an example to describe how this works. Let's take SDG #4 (Ensure inclusive and equitable quality education and promote lifelong learning opportunities for all). To achieve this SDG globally, it will require some educational systems to be created where they do not exist and will require reformation or enhancement in others. However, we know that capabilities such as Learning Content Management and Learner (Constituent) Management are going to be critical for educational systems anywhere. So, we can actually catalog the people and solutions around the world who offer these capabilities and then match them to the governments, non-profits and initiatives who need to leverage them to deliver or reform education around the world.
This powerful global catalog shifts us away from local approaches where every educational system must recreate the wheel through point-to-point interactions to learn best practices and discover the people and solutions that will best meet their needs. Instead, it allows us to leverage the global community, technology and best practices and even facilitates cross-government and educational system collaboration around a common mental model.
Business architecture also helps to focus on end-to-end SDG outcomes and value.
One key challenge in meeting the SDGs, as with any other big goals, is that organizations (and the people within them) are siloed with their own purposes and motivations. They may also not understand how they contribute to (or take away from) the bigger picture and goals. (See Post No. 68 for more on how business architecture is an expert silo-buster.)  Business architecture (especially capabilities and value streams) provides a framework like no other to give us a birds-eye view that allows us to focus on end-to-end outcomes and value. Again, the Business Architecture Guild® Government Reference Model is absolutely critical here as a unifying framework.
Back to SDG #4. What if we designed our education programs from a higher-level, stakeholder-focused and value-oriented perspective by defining all the end-to-end value streams (and experience journeys) required to deliver and manage quality education (of course with the corresponding capabilities cross-mapped to them)? For example, a value stream where a learner completes a course or curriculum would ensure focus on the right stakeholders (i.e., keeping it student-centered) and would help all players (e.g., teachers, administrators, solution providers) to know where they fit in and what capabilities and solutions they contribute to the bigger picture.
This end-to-end approach to architecting change shifts us away from siloed approaches that focus on individual responsibilities to an end-to-end focus on the right outcomes and value. This also creates a repeatable pattern to jump-start educational systems where they do not exist and greatly accelerates our progress towards meeting SDG #4.
Here is a quick diagram that helps to summarize all of this content:
What can I do now to start helping?
Educate yourself on the SDGs, care, consider your areas of passion and possibility, and take some responsibility. It starts there. We can all lead from whatever position we are in. Use your own role and sphere of influence as an individual and as a business architect to make a change. Don't wait to be chosen. Choose yourself and just do it.
Of course, as an individual, you can find ways to contribute to the causes that matter most to you outside of any organization you are affiliated with.
Within the context of the organization you work within (or others you participate in like your church, volunteer organizations, boards, etc.), first, find out what's going on and if there are already efforts to align with and contribute to the SDGs. If so, find the people responsible and help them understand how business architecture can help to make their efforts more effective, accelerated and scalable per the ideas shared above as well as your own. If there are no efforts in place within your organization, start a conversation with those who would normally be responsible for these things (e.g., a Corporate Social Responsibility department) or find some advocates (e.g., a leader who is passionate about making a difference to the bigger picture) and discuss the possibilities and some initial steps you can take.
A good place to start for an organization is the make the SDGs visible and tie actions to them idea above. Identify and document the relevant SDGs to your organization, tie your own objectives to them, tie the enabling value streams and capabilities to those objectives and then plan and track concrete initiatives to meet them. (Of course, all of this information should be captured within your business architecture knowledgebase.) Over time you can start engaging in cross-organizational collaboration towards the SDGs.
The world needs you. Right now. Whatever way you choose to contribute will matter. If we all care, together achieving the SDGs is possible.
More Good Stuff…
Sustainable Development Goals (United Nations) – The official website on all things SDGs. 
Malawi's Fearsome Chief, Terminator of Child Marriages (Al Jazeera) and When Women Rule: Malawi Chief Battles Harms Against Girls (United Nations Population Fund): All-time fav stories here about female chiefs (a rarity) Chief Kachindamoto and Chief Mwanza who use their rise to power to put an end to child marriages and get girls back in school. It's an outstanding example (and reminder) of what an empowered individual can do, and how we can use our own position and sphere of influence to make change. #0F
The Rational Optimist: How Prosperity Evolves (Matt Ridley): If you are discouraged by the doom and gloom that circulates in the press, this book is the perfect pick-me-up. Drawing on historical, political, and economic evidence, Matt Ridley shows us that humanity has always had a great ability to come up with innovative solutions to major problems, and it will continue to do so in the future.
Enlightenment Now: The Case For Science, Reason Humanism and Progress (Steven Pinker): An amazing and sweeping book to inspire optimism. Enlightenment Now reflects on how the Enlightenment made the world a safer, healthier, and more progressive place that just keeps getting better and better. For example, since the Age of Reason in the 18th Century, humanity has successfully been reducing poverty, disease, and war.
The End of Poverty: Economic Possibilities For Our Time (Jeffrey Sachs): Another epic and brilliant book by renowned economist Jeffrey Sachs who lays out a strategy for ending poverty forever. With relatively little investment focused in the right way, we could transform the lives of millions for the better. Seriously. We just need the desire and courage to act upon it.

Eradication: Ridding the World of Disease Forever (Nancy Leys Stepan): Eradication means the complete elimination of disease through deliberate human intervention. This book looks at the benefits and drawbacks of single-minded efforts to rid the world of particular diseases, one at a time.
The Future of Management Is Teal (Strategy+Business): An outstanding article on how organizations are moving forward along an evolutionary spectrum, toward self-management, wholeness, and a deeper sense of purpose. Also check out the book on Reinventing Organizations: A Guide to Creating Organizations Inspired by the Next Stage of Human Consciousness.
The Natural Step: A framework for achieving sustainability leveraged by corporations, municipalities, academic institutions and not-for-profit organizations.
Green to Gold (Daniel Esty and Andrew Winston): This book is an absolute classic on how to use environmental strategy to innovate, create value and build competitive advantage.
Natural Capitalism (Paul Hawken, Amory Lovins and Hunter Lovins): A book on how today's global businesses can be both environmentally responsible and highly profitable. Originally groundbreaking. Still is.
The Ecology of Commerce (Paul Hawken): This book lays out a compelling vision of the restorative (rather than destructive) economy we must create, centered on eight imperatives.
Cradle-to-Cradle: Remaking the Way We Make Things and The Upcycle: Beyond Sustainability: Designing For Abundance (Michael Braungart and William McDonough): These books are visionary pieces on a new approach to products.
Want to Change the World? Start By Being Brave Enough to Care (TED Talk): An inspiring and powerful TED Talk by Cleo Wade on how every single one of us is capable of creating a real, wholehearted impact on the world around us, right now. Yes, yes.